*Late fee applies from 1st August
The original and still most popular distance, the WTF28 point-to-point run from Brandy Creek to Airlie Beach maintains its position as the Whitsundays preeminent offroad race, attracting trail runners from Australia and overseas.
Entries for the WTF28 will open on January 1st 2023 at 10AM, (Australian Eastern Standard Time).
All runners in WTF28 need to have their mandatory gear checked at the time of collecting of their race pack. If the runner does not have the required mandatory gear required, they will not be to compete in the event. Please read through the gear list, of what mandatory gear is required to be able competed in the event. Please noted there are minimal water stations along the trail, so you need to take enough water to get you through the trail safely.
The cutoff time for the WTF28 is 6hrs 30mins.
To receive a medal and time, you must finish in this time or less.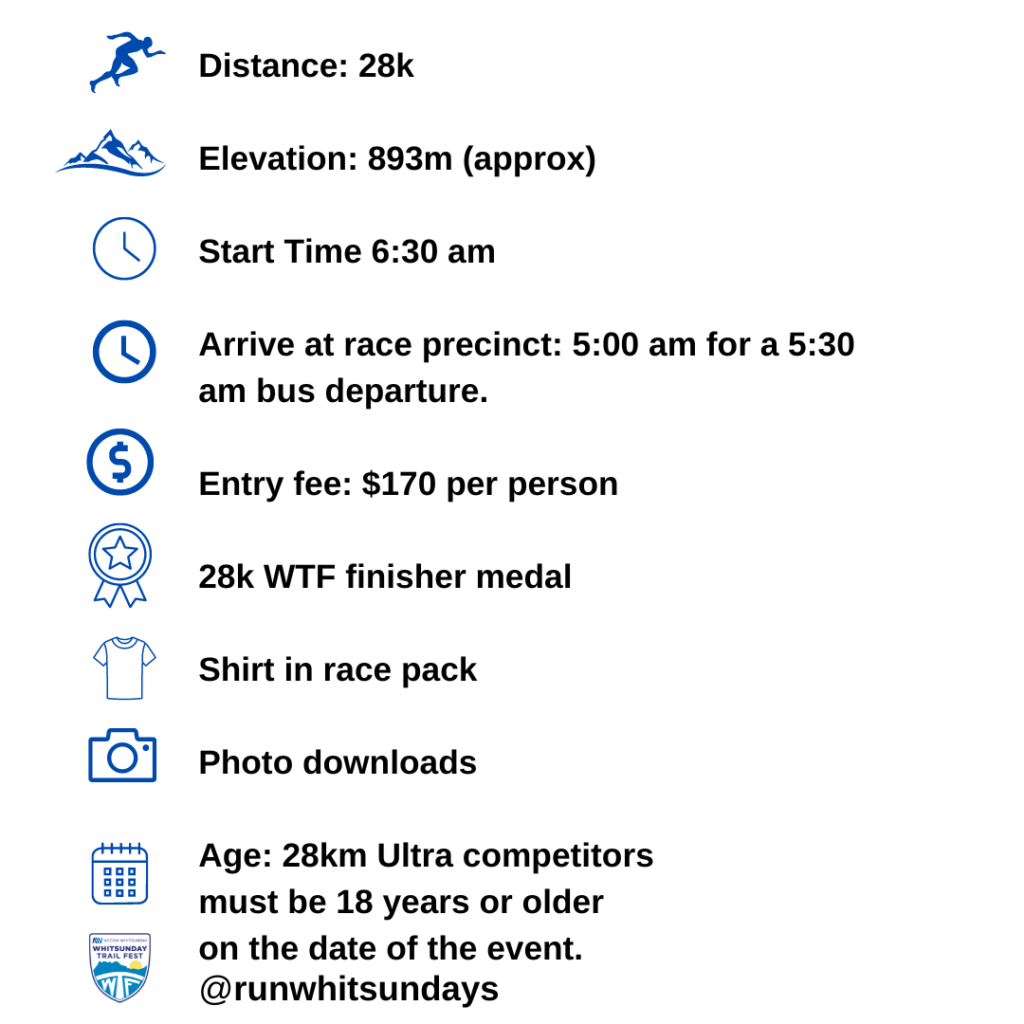 Female WTF 28k Course Record To Airlie Beach Foreshore
Montanna Mcavoy
2022 – 02:37:06
Male WTF 28k Course Record To Airlie Beach Foreshore
Sam Stedman
2021 – 02:29:44
TRANSFERS, CANCELLATIONS & REFUNDS
If you can no longer participate in the event please refer to Refunds and Transfers to check your available options.
There is no requirement to have completed any other particular event in order to participate in the WTF28. You are required to be at least 18 years old. You also need to be an experienced trail runner and must be sufficiently skilled and trained to undertake the event. The course is very tough and demanding with remote sections that can result in slower first aid / rescue response times. It is a combination of fire trail and narrow walking tracks including some very steep sections on dirt and on rock and sections that are rough under foot. It is your responsibility to ensure that you are fit enough to complete the event. Ensure that you are in good health and that you do not have any illness that will hinder your ability to complete the event. It is your responsibility to monitor your health and condition during the event and to withdraw from the event if you are no longer fit enough to continue. Please read and understand the Indemnity & Release Form. You do NOT need to print and sign this form as you will electronically sign this when you enter online
The organiser of the Event, Whitsunday Running Club, has public liability insurance cover. This does not include personal accident insurance for competitors. We recommend that you arrange your own personal accident insurance, ambulance cover and income protection insurance before participating in the Event to cover any unforeseen personal costs you may incur due to ambulance trips, medical expenses or time off work due to injuries sustained whilst participating in the Event. International participants should take out travel insurance that provides cover for ultra-trail running events.